A Family Legacy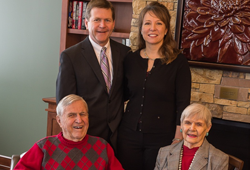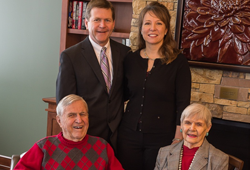 Pete and Katherine Coyle have been engaged in the Sisters' Mission at OSF for many years, both personally and through the family business, Coyle Insurance. Coyle Insurance was founded in 1984 by Pete's father, Robert (Bob). Bob led Coyle Insurance with sound business practices and heart. From the beginning, he made sure his company would be an example of philanthropic support and community growth. Bob's influence on Pete was evident in Pete's leadership after Bob retired from the family business. Coyle Insurance merged with Arthur J. Gallagher in 2012 and Pete now serves as Area Vice President for Arthur J. Gallagher RMS. Pete is an active member of the OSF HealthCare Saint Francis Foundation Council where he brings his experience, leadership and this same heart to the board. He is keenly aware of the accountability and integrity the Foundation must demonstrate to provide donors with outstanding stewardship.

When OSF HealthCare Children's Hospital of Illinois was built, Pete and Katherine understood the importance the hospital would play in the lives of children and families throughout the OSF Ministry and generously supported the project. They recognized the blessings and medical milestone a pediatric hospital with over 100 pediatric specialists would be to our smallest patients.
Additionally, when Pete discovered their company had a paid up life insurance policy on his father, they decided to change the beneficiary of the policy to OSF HealthCare Foundation to support OSF Children's Hospital. Pete and Katherine thought it was a wonderful way to celebrate Bob and Shirley's example of generosity and leadership in the community and the entire families' commitment to the Ministry of OSF. When Bob passed away in 2014, OSF Foundation was honored to use this gift of insurance to create the Robert and Shirley Coyle Endowment to support OSF Children's Hospital of Illinois. We truly appreciate the dedication the entire Coyle family has so generously demonstrated through the years and we proudly recognize them as valued members of the OSF family!

Using assets such as a life insurance policy that may no longer be needed is a wonderful way to give a legacy gift to support the Ministry of OSF. The beneficiary designation can be worded to support any area of OSF that is important to you, and the charitable tax benefit to your estate can be an additional benefit to your heirs. For more information on giving a gift of insurance, please CLICK HERE, or CONTACT US .