A Generous Heart Provides Life Income and a Future Legacy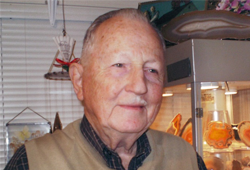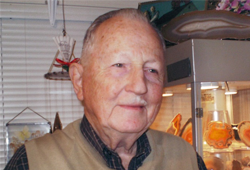 Howard understands the value of quality health care near home. When his wife, Dona, needed comprehensive medical treatment, OSF HealthCare St. Joseph Medical Center in Bloomington, IL was right there in their community, ready to provide critical and compassionate care.
Howard and Dona came to OSF St. Joseph many times throughout Dona's illness. "The staff was just great. They did everything they could to make us comfortable," Howard said. Howard and Dona were married for 51 years when she passed in 2002. As with his wife's experience, Howard appreciated the compassionate care he also received when he used the services of OSF St. Joseph in 2003 . "I didn't enjoy having to be at the hospital, but if I had to be somewhere, I'm glad I was at OSF St. Joseph."
Because of the care Howard and Dona both received through the years, Howard became a consistent and dedicated donor to OSF St. Joseph. His philanthropic support to OSF St. Joseph is purposeful and systematic through his use of Charitable Gift Annuities. A Charitable Gift Annuity is a gift that provides life income to Howard now, and support to OSF St. Joseph later. Each annuity gift comes with Howard's deep appreciation for the care he and Dona received and his dedication to ensure that care would be available to others in the future. They have also allowed Howard to fulfill his philanthropic goals while adding security to his retirement years. OSF HealthCare Foundation is a qualified provider of Charitable Gift Annuities.
Charitable Gift Annuities provide Howard with secure fixed income payments that will not change with the markets. Plus, Howard receives a charitable tax deduction for each gift and part of the income from each annuity will be tax-free. With his tax savings and increased income, Howard enjoys travel, golf, playing pool or making jewelry for friends. Howard has no plans of slowing down!


In February of 2014, the OSF Foundation worked with Howard to create The Dona and Howard Little Innovation Endowment to support a project that Howard is passionate about, the Hybrid OR at OSF St. Joseph. This was the first designated endowment for the OSF HealthCare St. Joseph Foundation. His gift gave Howard a wonderful sense pride, knowing his endowment will provide future support to help others with the most up-to-date innovations in healthcare at OSF St. Joseph.
Annuities can be funded through cash or appreciated assets such as stock. Using appreciated assets has the additional bonus of helping our donors to avoid some or all capital gains tax. Please check with your tax professional for your specific circumstance.
We are happy to discuss Charitable Gift Annuity options with you and help you discover this safe and secure way to provide life income while supporting the Sisters' Mission at OSF. For more information on Charitable Gift Annuities, please CLICK HERE, or CONTACT US.