Secure Income for Retirement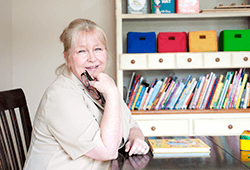 After working for decades as a pediatric nurse, Suzanne was enjoying retirement.

Suzanne: I bought some stock a number of years ago and overall this was a good investment for me. However, I was uncertain about leaving my savings in the market where I knew it could go up or down. I was also looking for security for my retirement years. Ideally, I wanted to know that I would have the income I needed and that it would not change with the markets.

Suzanne read about charitable gift annuities in the Legacy of Hope eNewsletter and thought perhaps a charitable gift annuity would be helpful for her. It would also be a way to support her alma mater, the Saint Francis Medical Center College of Nursing.

Suzanne: I called the Office of Planned Giving at OSF and asked about a gift annuity. I was very pleased to discover that I would receive a good payout based on my age. Plus, there would be a charitable tax deduction and part of the income would be tax free.

I transferred my stock for a charitable gift annuity. I was delighted with the fixed payment I received. I avoided part of the capital gains tax and my CPA was pleased that my charitable deduction will save taxes this year. I was thrilled also to know that the college that started me on my career in nursing would benefit and continue to train excellent nurses into the future.

*Please note: The story above is inspired by our wonderful donors and is for illustration purposes only to help you understand the benefits of planned giving. Since your gift annuity benefits may be different, please click here to download a free brochure on gift annuities, or call our office at (309) 566-5653.